Get the Recipes from my New Video Here!
The time has finally arrived for NEWNESS.
I am so excited to share some of the exciting things that I have been working on these past few months: including my site rebrand (what do you think?!) and the video now playing on my homepage. Shooting this video was such a blast, and I am so grateful to all of the wonderful people surrounding me that helped in making it a reality (more on that later).
The story behind the video is a simple, yet strong one: we have the power to not only survive in this lifetime, but to thrive if we choose to make our health a priority. Simple things like nourishing our bodies with vibrant, real food cooked with love, exercising often, getting outdoors, and spending times with loved ones - these are truly the seeds of wellness.
Anyway. The food!
The menu you watch me create in the video is one that was actually born from the same Farmer's Market shown in the video: fresh, local, seasonal produce in a variety of colors and textures paired with some of my favorite plant-based proteins and complimentary flavors. I present to you:
My Warm Autumn Salad with Maple Tahini Dijon Dressing and Perfectly Roasted Vegetables,
My Fan-Favorite Creamy Butternut Squash Soup with Beet Crisps & Pumpkin Seeds, and my
Spicy Cherry Barbecued Sesame Seitan.
First up, the salad that we must have made and devoured 50 times since filming this video. We can't get enough! This salad makes a great batch-cooking staple, as the majority of the ingredients are ones that can be made in big quantities and/or made ahead of time for easy assembly. For this dinner party, I made an extra batch of the roasted vegetables to serve as a side dish (they're that good!). The dressing is incredibly delicious drizzled atop them!
Warm Autumn Salad with Maple Tahini Dijon Dressing and Perfectly Roasted Vegetables
Vegan, Serves 2-4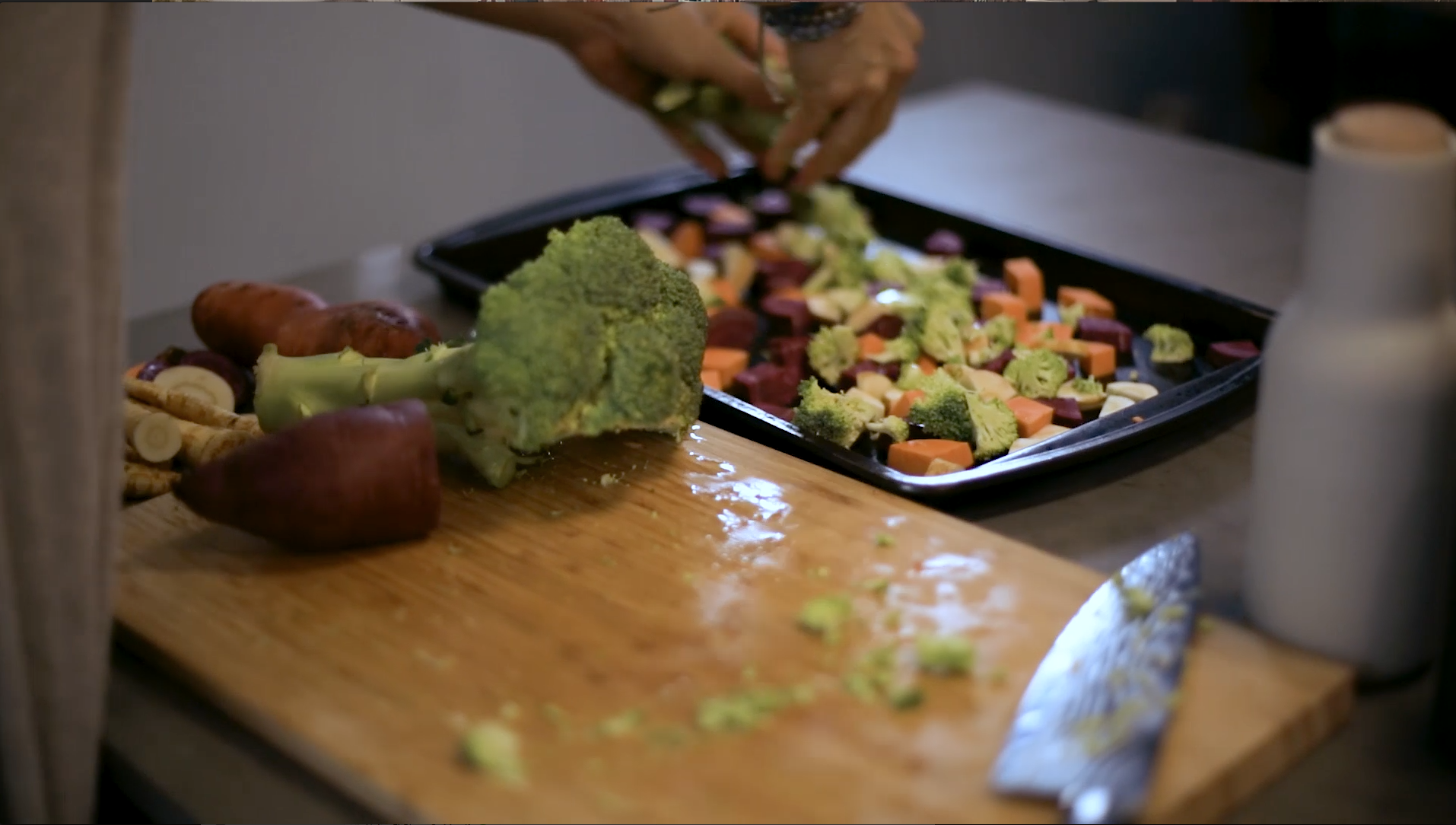 Ingredients:
1 Cup Cooked Farro & Peas* (cooked ahead of time, see below)
1-2 Big Bunches of Kale, destemmed and chopped
1 Acorn Squash (roasted ahead of time, see below)
1 Purple Potato, chopped
1 Sweet Potato, chopped
1 Head of Broccoli, chopped (the stem, too! This is where the majority of the goodness comes from!)
3-5 Parsnips, chopped
Olive Oil, for roasting & to drizzle
Spices: Turmeric, Smoked Paprika, Black Pepper & Sea Salt, to taste
Toppings: Pumpkin Seeds, Pistachio Pieces, Your Favorite Raw Veggies (I used cucumbers, tomatoes, and red peppers because I love them, even though they don't really scream "Autumn")
Maple Tahini Dressing (see recipe below)
* Farro cooks like pasta: fill a medium-sized saucepan with water and bring to a boil. Add farro (1 cup dry yields a little over 2 cups cooked), and cook for about 20 minutes, until just al dente. At this point, add 1 cup of peas (frozen is fine!), and let cook for another 3-5 minutes. Drain and set aside.
Method:
Begin by roasting your vegetables and the acorn squash:
1. Preheat your oven to 450°.
2. Place chopped vegetables in a single layer on a baking sheet and drizzle with a bit of olive oil and a few shakes each of turmeric, smoked paprika, black pepper, and sea salt. Toss to coat, and place in oven. They'll between :40 minutes and 1 hour to roast, check on and toss them often. You're looking for a few blackened, crispy spots, and to remove them before they burn.
3. While the vegetables roast, slice or chop the acorn squash (you can leave the skin on, but do remove the seeds), place in a single layer on a baking sheet, and drizzle with a bit of olive oil.
4. Place prepared squash in oven and bake until the tops begin to turn golden brown, and flip (about 10-15 minutes). Roast for another 10-15 minutes and remove from heat to cool. The squash takes roughly 30-40 minutes to roast.
5. While waiting for the above to roast, make the dressing by adding all of the following ingredients to a blender and blending to combine. Let chill.
1/4 Cup Tahini
1/4 Cup Chopped Yellow Onion
1-2 Cloves Garlic
Juice from 1/2 Lemon
Heaping Tablespoon Grained Dijon
1/4 Green Apple (optional, but fantastic during apple season!)
1 Tablespoon Apple Cider Vinegar
1 Teaspoon Grade A Maple Syrup
Splash of Filtered Water to Thin (add up to 2 Tablespoons as needed)
Turmeric, Black Pepper, & Sea Salt, to taste (just a few shakes each)
6. Place chopped kale in a large mixing bowl with half of the dressing and massage (seriously!) until all greens are coated. You're looking to break down the kale to make it more easily digestible (and more palatable!).
7. Add roasted vegetables, farro and peas, and desired toppings to the bowl and toss to combine.
8. Add acorn squash, spices, and a drizzle of the remaining dressing to the salad. Serve & enjoy!
Next up, my Creamy Butternut Squash Soup - which happens to already have a home on this blog! Jump to it here!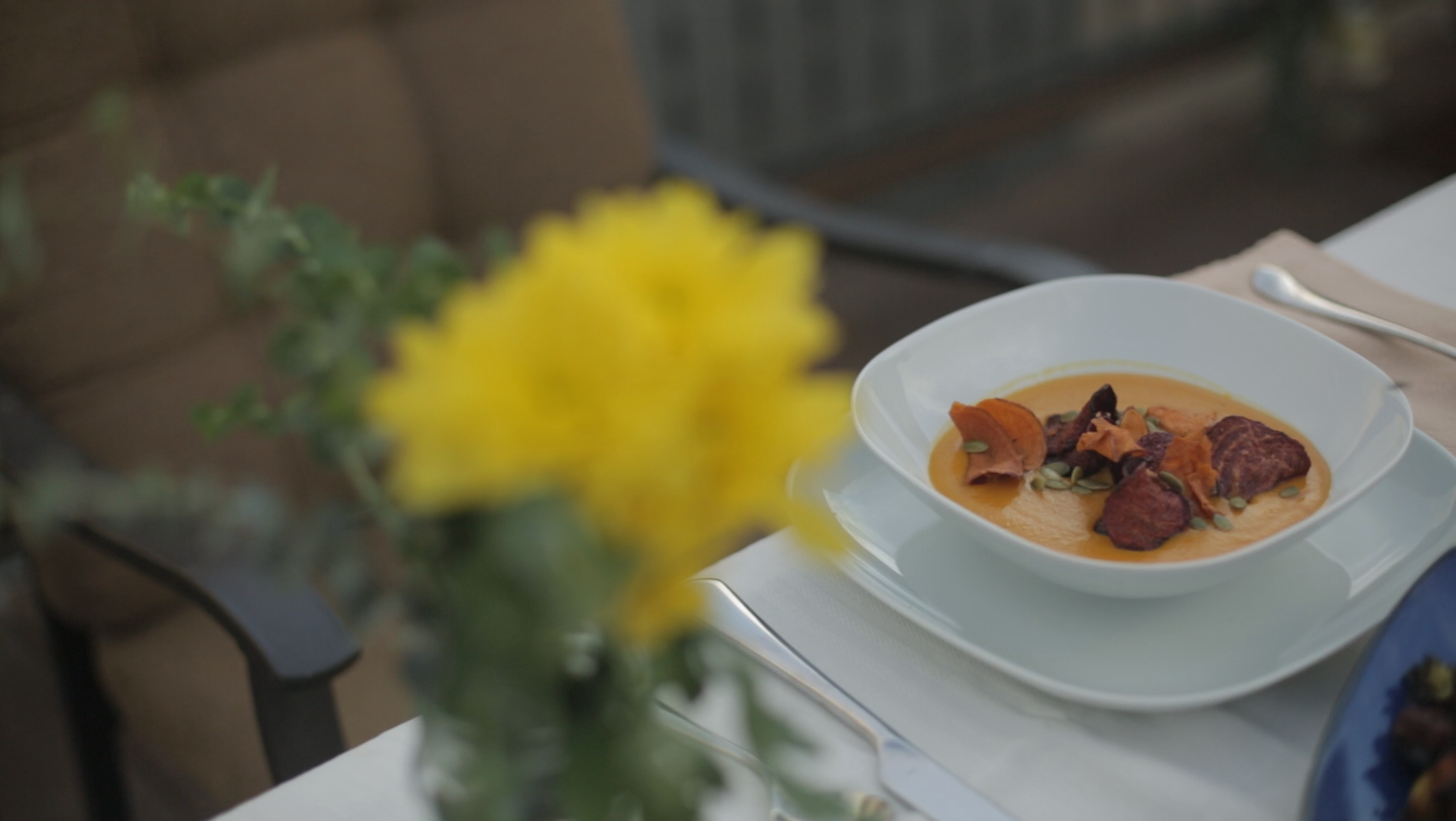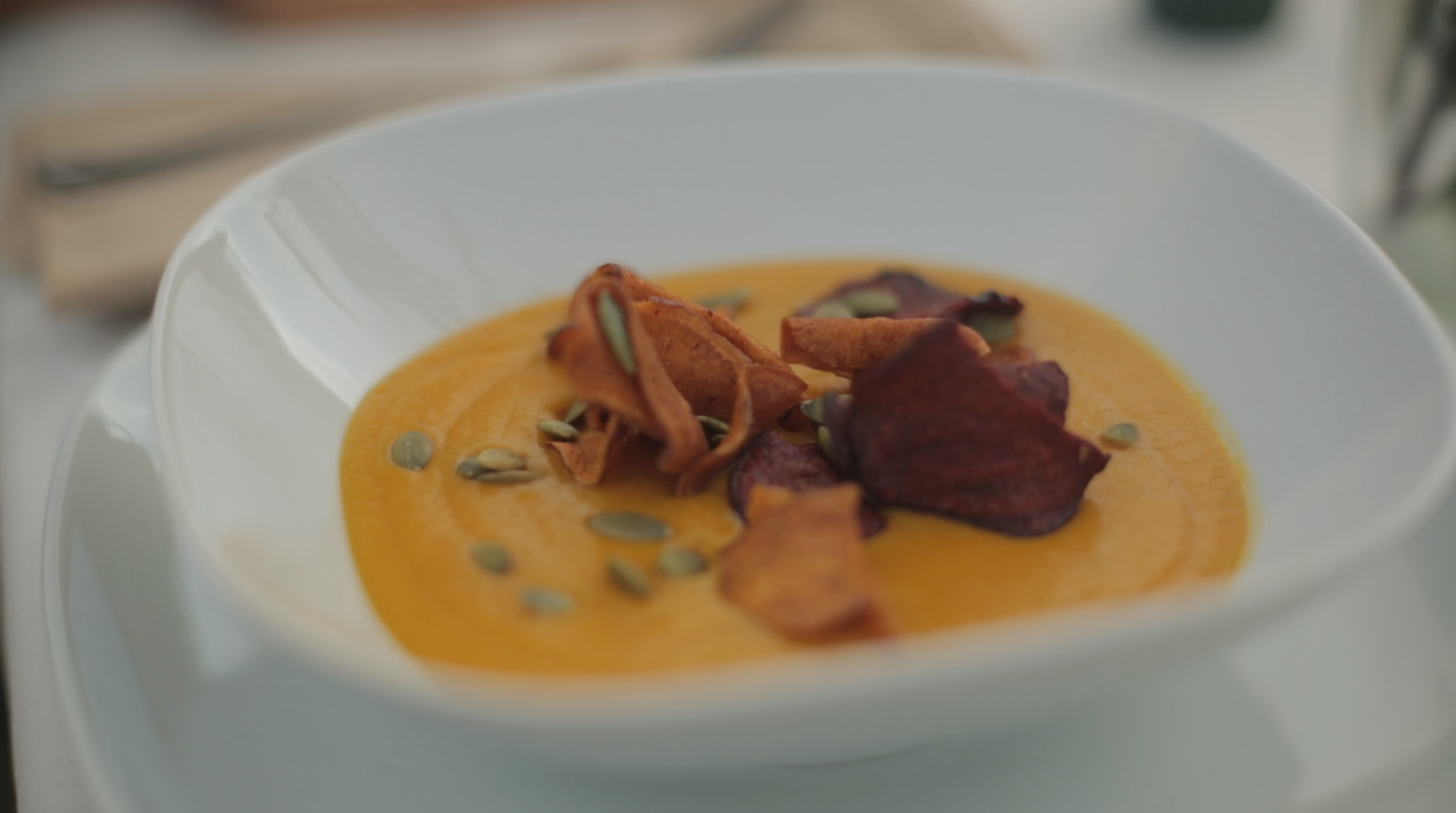 And, last but absolutely not least,
Spicy Cherry Barbecued Sesame Seitan
Vegan, Serves 2-4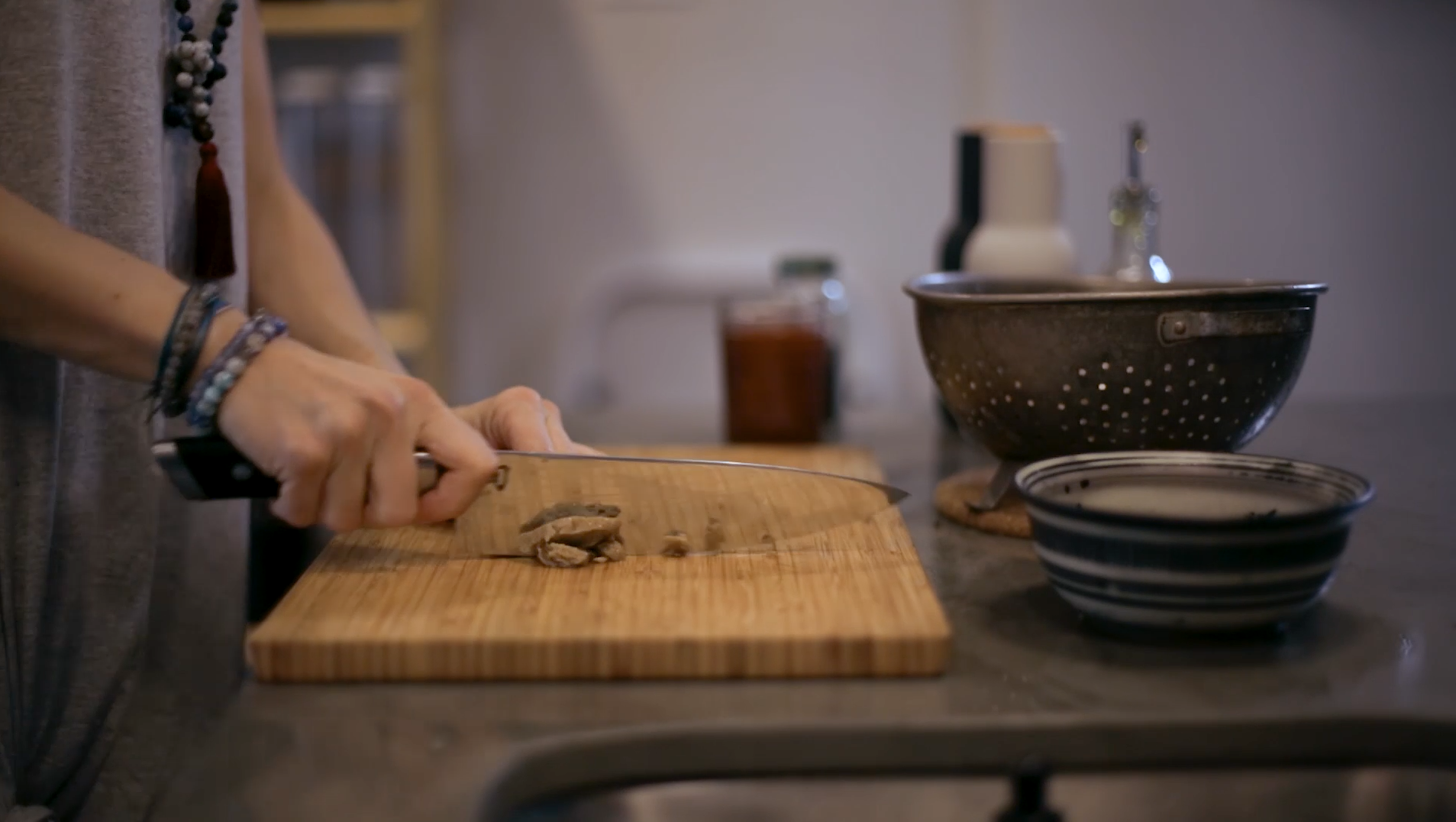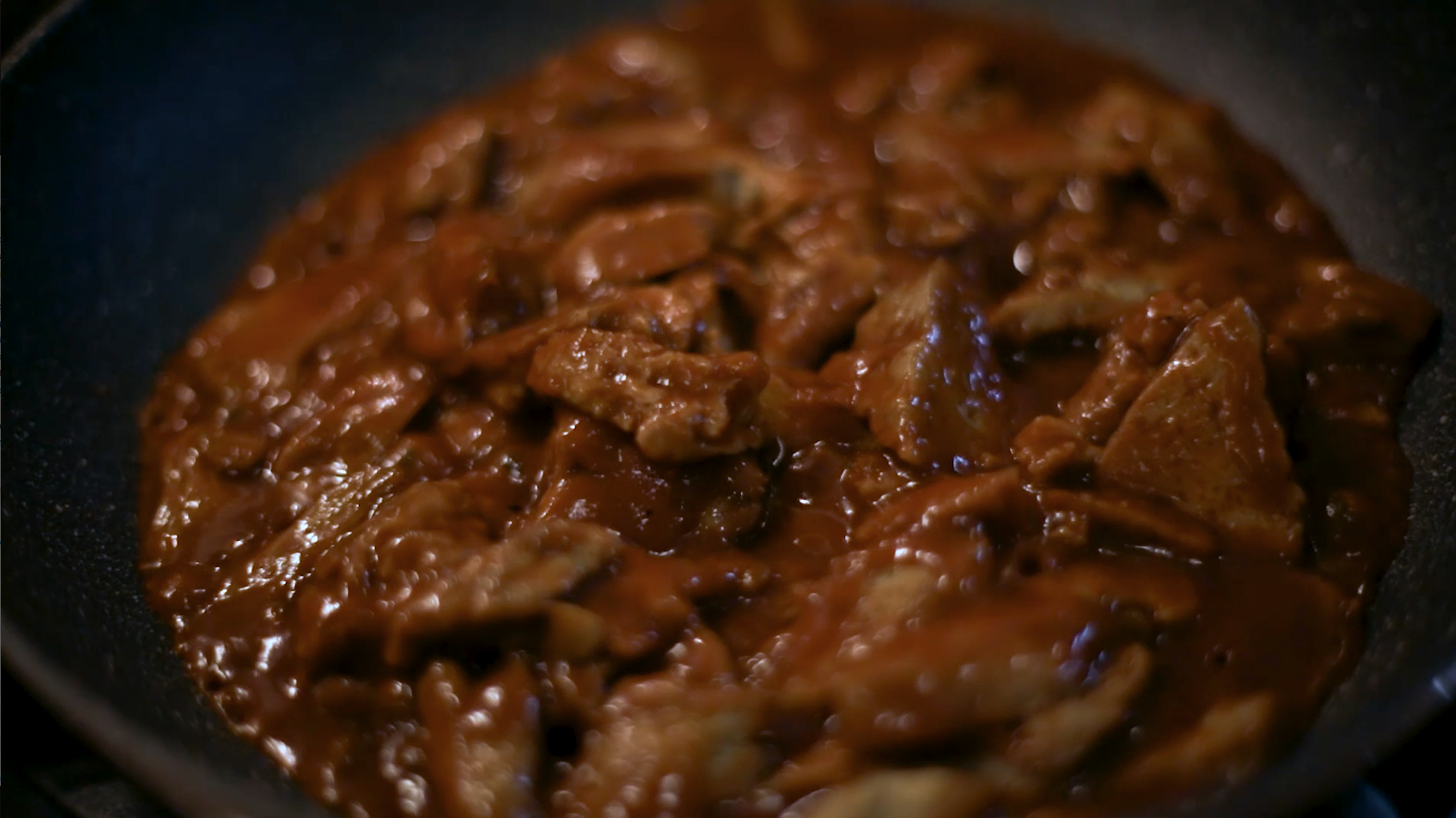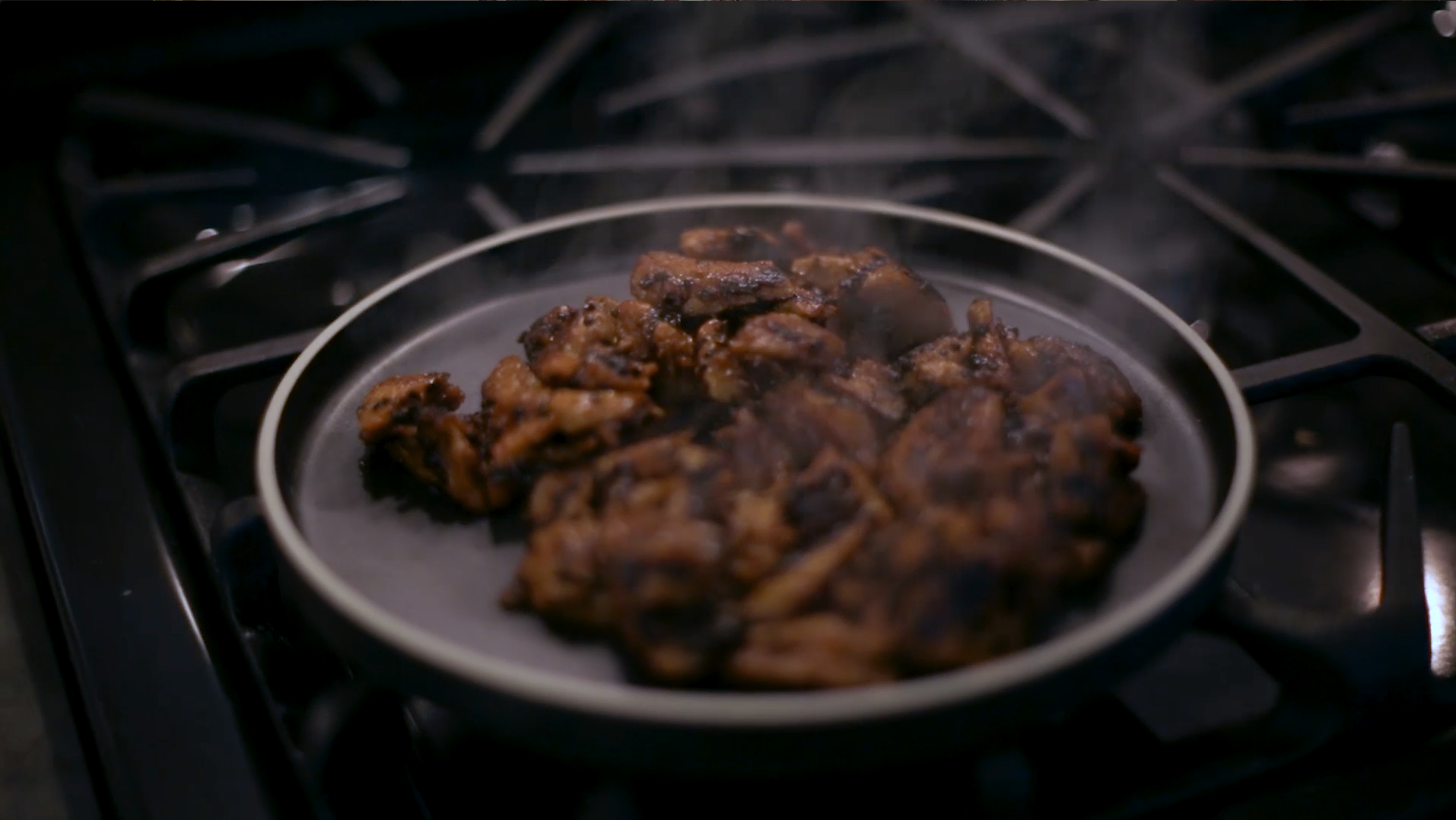 Ingredients:
1 12oz Package of Seitan (my favorite brands are Ray's & Blackbird, both local to Philadelphia, but any will do!)
1- 1.25 Cups of Your Favorite, Low-Sugar Barbecue Sauce* (sharing my homemade recipe below!)
Olive Oil, to drizzle
Black Sesame Seeds, to garnish
Method:
1. Warm a drizzle of olive oil in a skillet over medium heat.
2. Add seitan and cook on both sides for about 5 minutes each, or until you start to get some nice browning.
3. Turn the heat up to high, wait 1-2 minutes, flipping once or twice so the seitan doesn't burn, and add barbecue sauce. Be careful, as it might splash! You want to add enough to cover every piece of seitan with some extra sauce cooking around the pieces, so expect to use about one cup.
4. Cook for 2 minutes, flip, and cook for another 2 minutes. Keep repeating this until the sauce has cooked down and is starting to blacken around the edges of the seitan. This should take about 8-10 minutes.
5. Remove from heat and garnish with a few sprinkles of black sesame seeds.
* Bonus Recipe:
My Homemade Spicy Cherry Barbecue Sauce (shared from my Summer Shift E-Book!)
Vegan, Makes 1 Quart
3 Tomatoes
1 Cup Cherries (frozen works well here)
2 Tablespoons Coconut Oil
1 Yellow Onion, thinly sliced
3 Cloves Garlic, minced
1/4 Cup Organic Vegetable Broth
6 Dates, pitted & soaked
Juice from 1 Lemon
4 Tablespoons Tomato Paste
1-Inch Knob Ginger, peeled & sliced
1 Tablespoon Dijon Mustard
1 Tablespoon Molasses
1 Tablespoon Apple Cider Vinegar
5 Drops Liquid Smoke
Spice Blend: 2.5 Tablespoons Chili Powder, 1 Tablespoon Coriander,
Teaspoon Each: Cumin, Smoked Paprika, Cayenne, Cinnamon Black Pepper & Sea or Pink Salt, to taste
Method:
1. Warm a skillet over medium heat.
2. Add coconut oil and onions. Sauté for 5 minutes, or until onions become fragrant and slightly translucent.
3. Add garlic and spices. Sauté for another 2-3 minutes.
4. Add tomato paste, tomatoes, cherries, and dates. Stir to combine. Cook for another 3-5 minutes.
5. Add vegetable broth, stir, and bring to a boil before lowering heat to simmer. Let simmer for 20 minutes, stirring occasionally, before removing from heat.
6.Once slightly cooled, add mixture to a high-speed blender and blend to combine. Taste, adjust seasonings as desired, and return to the stove.
7. Warm skillet over low heat, cover, and let simmer for 30 more minutes.
8. Remove from heat, transfer to a glass jar, and set aside.
To bring it all back home, I want to thank a few amazing people for helping me to recreate my vision for The Shift Wellness with this video:
Mark, for all of the creative work that you put in behind the scenes every single day, I can't thank you enough. I love you.
Sean, for all of your ideas, filming, editing, and countless texts (and chocolate chip cookies and Square bars). You are a hero. GET SOME SLEEP.
Pam, thanks for allowing us to borrow your husband for the past few months! You are a saint. Tell him to go to sleep.
G(oldberg), thank-you for letting us use (okay, take over) your space. As you can finally see, it was totally worth it!
Emily, Dom, Jack, Miles, Sparky, & Devon, thank-you for believing in my vision, doing everything you did (flowers, kitchen, clean-up, bringing wine) to make this happen, and being authentically YOU - we couldn't have gotten these shots without you!
Harriet, for being the best dog model of all time. Way to steal the show!
Ellie and Vito, thanks for being Harriet's friends at all of the shoots!